Roasted Red Pepper, Spinach, Garlic Sauce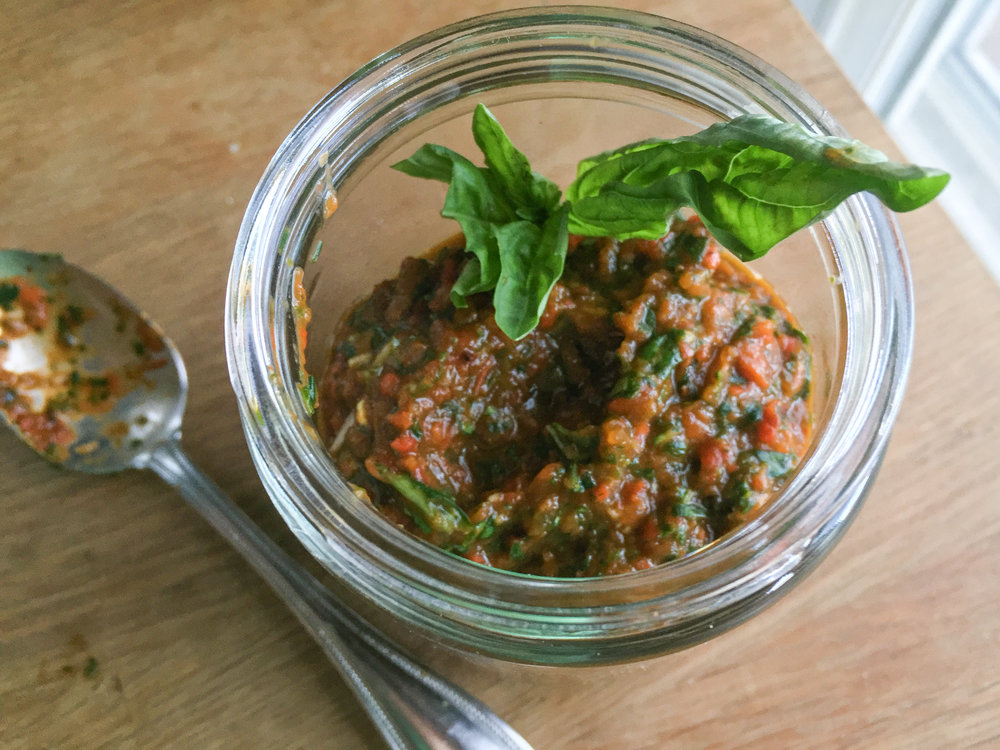 After coming up with this simple recipe, I will never buy store-bought sauce again. It really changed my perspective on how easy it is to create a healthy, plant-based sauce that's free of added processed sugar and chemicals, which a lot of store-bought sauces have to keep them on the shelf for all eternity. But my goal is not to have foods last for an eternity...I'm going to eat them sooner than that. In fact, I'm going to eat them immediately when they are as tasty as this sauce! I like to fold this into bean-based gluten-free pastas, on fish, or over veggies (I've even put it over omelets...yep! It's that versatile).
Ingredients: 3 organic red bell peppers 2 cloves garlic 1-2 cups organic baby spinach 1/2 cup fresh basil 1 tsp avocado oil 1/2 tsp pink Himalayan sea salt
Instructions: Preheat oven to 400° F. Cut tops off of bell peppers and cut into 1-inch strips, removing the white ribs from inside. Lightly spray or drizzle about half of the avocado oil onto a baking sheet and place strips of bell pepper onto the sheet. Place in oven and let them roast for about 8 minutes, or until the first side is nice and blistered, then flip them to the other side for another 6 minutes. They should be nice and soft and blistered on both sides.
In a food processor or high-speed blender (I even like using an immersion blender with the ingredients placed in a saucepan), blend roasted bell peppers, garlic, spinach, basil and salt, until it gets smooth but not completely uniform -- having a bit of texture in there is sometimes nice, but it's up to your preference!
Serve over pasta, on your favorite fish or chicken, or even over breakfast scrambles!