Maple Nut & Seed Superfood Granola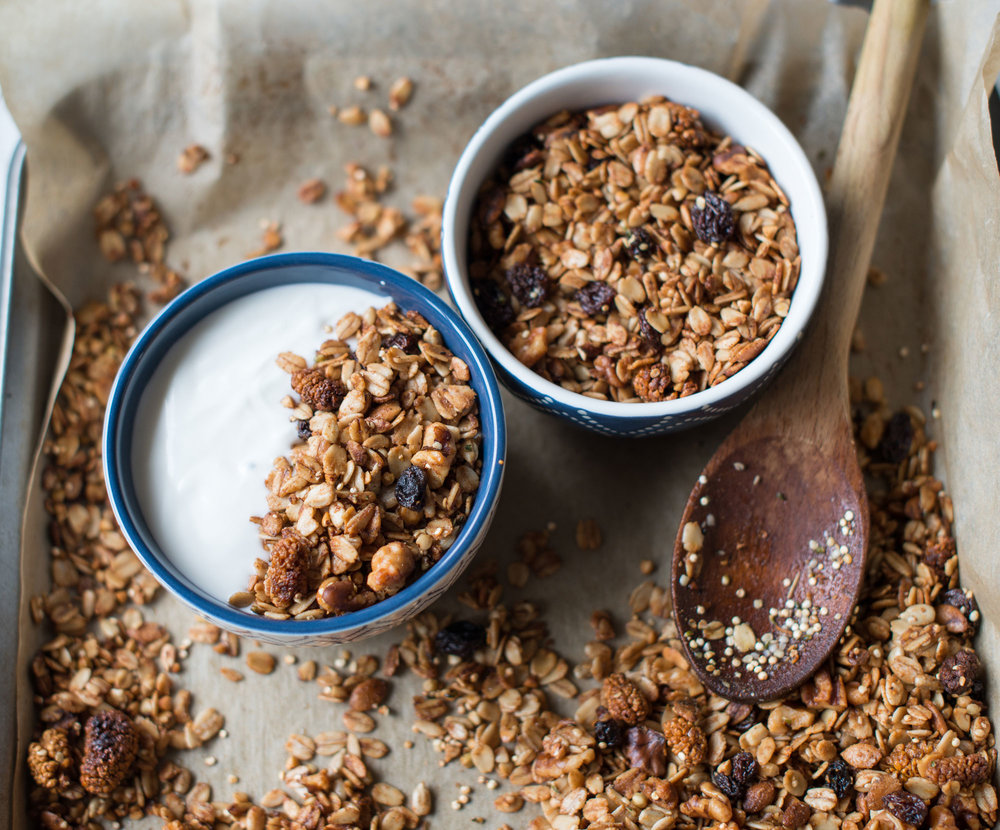 There's something empowering about making your own versions of foods you normally buy in the grocery store. Don't get me wrong, there are lots of great products out there, and for the convenience factor, many times it's the best way to go for most people. However, when you buy something pre-made, you may be sacrificing time and convenience for quality, health-minded ingredients. In this case, this lower-sugar superfood granola is a great substitute for store-bought varieties. Plus, you can play around with the add-ins to make it exactly as you want it with all of your own personal favorites.
Ingredients: 2 cups extra-thick gluten free oats 3 TBSP buckwheat groats 1 TBSP quinoa 1/4 cup coconut oil, melted 1/4 cup maple syrup or honey 1/2 cup chopped walnuts 1/4 cup pepitas 1 TBSP sunflower seeds 1 tsp maca 1 TBSP hemp seeds 1 tsp cinnamon 2 pinches sea salt 1/4 cup raisins 1/4 cup mulberries
Instructions: Preheat the oven to 350° fahrenheit. Line a baking sheet with parchment paper, and set aside.
Add oats, buckwheat groats, and quinoa to a large bowl. Add in melted coconut oil and mix thoroughly until coated well. Add in maple syrup (or honey) and mix until fully coated. Add in walnuts, pepitas, sunflower seeds, maca, hemp seeds, cinnamon, and sea salt. Mix until everything is well combined.
On the parchment-lined baking sheet, pour the granola mixture and flatten out in a thin, even later using a wooden spoon.
Put in oven and bake for 10 minutes, then take out and stir the granola and add in mulberries and raisins, then flatten it out again in a thin layer and place back in oven to bake for another 8 minutes.
Remove from oven and let cook completely before storing in a tupperware.
Makes about 2.5-3 cups of granola.