Shakshuka (Gluten Free, Dairy Free, Low FODMAP)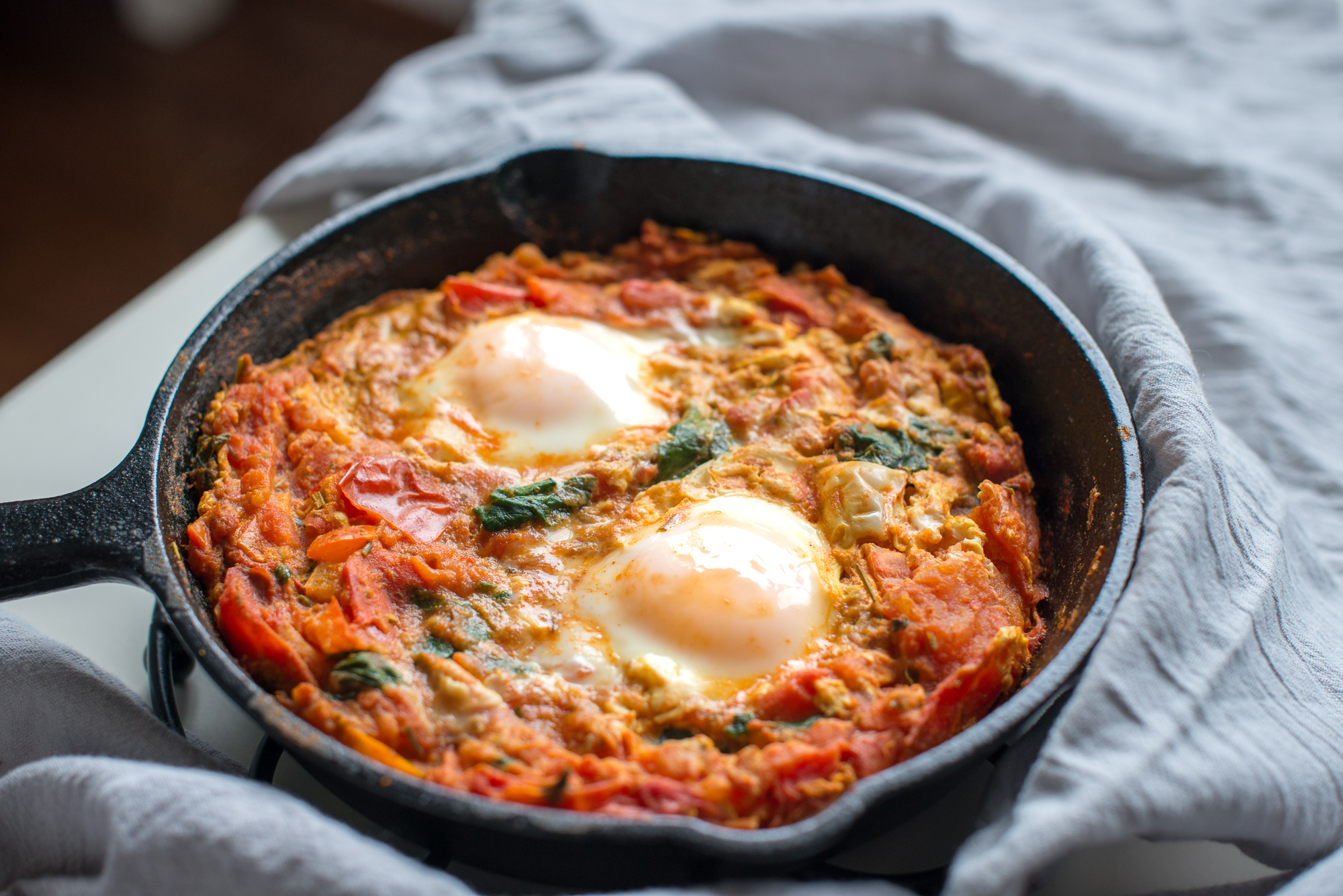 I was first introduced to Shakshuka (also spelled Shakshouka) a few years ago at a little Mediterranean restaurant on a visit to NYC with my now-husband. It was lunch time or later, but a dish with eggs, tomatoes, chili peppers, and spices like cumin jumped off the menu page and grabbed my interest.
Soon enough, a small cast iron skillet (adorable), was brought out to our table and the aroma of warm spices and sweet tomato filled the air, and I couldn't wait to dive into the pillowy poached eggs that sat atop the skillet.
This dish truly does transport you to another place, and in some ways, another time. With rushed meals (especially when it comes to breakfast), this is a particularly special recipe -- made to simmer, slow down, and eat with intention and enjoyment, becoming familiar with all of the flavors and nourishment it has to offer.
Ingredients: For Roasting Tomatoes: 5 cups plum tomatoes, cut into quarters 1 tsp oregano 1 tsp rosemary 1/2 tsp sea salt
For the Shakshuka: 1 cup roasted tomatoes (see ingredients above) 1/4 cup chopped bell pepper 1/2 tsp fresh diced ginger 1 cup chopped spinach 3 dashes dried turmeric 3 dashes dried rosemary 3 dashes dried oregano 3-4 dashes smoked paprika 1/4 tsp dried ground cumin 1 dash dried cayenne 2 eggs (ideally organic, pasture-raised)
Instructions: Preheat oven to 400° F. Line a baking sheet with parchment. Cut the plum tomatoes into quarters (or even smaller if you don't mind making an extra cut in each piece). Place the cut tomatoes on the parchment-lined baking sheet, skin side down, spray lightly with avocado oil, add sea salt, oregano and rosemary. Roast in the oven for 10 minutes at 400° F, then flip and roast for another 7 minutes, until the tomatoes are very soft and sweet.
In a small cast iron skillet, add fresh ginger, bell peppers and a light drizzle/spray of avocado oil, allow to cook for a few minutes until aromatic. Then add 1 cup of the roasted tomatoes, chopped spinach, and herbs and spices, and sauté for about 5 minutes until spinach is wilted and tomatoes are simmering.
With your spatula, form two holes in the tomato mixture in the skillet, and crack an egg in each hole. Allow to cook for 5-10 minutes, covering after about 3 minutes. You'll know it's done When the whites are completely cooked (no longer transparent and have turned white), and the yolks are still jiggly.
Makes one hefty serving, or two smaller portions.
Fuel Facts:
Eggs: Choline - a vitamin that supports brain and nervous-system health and function
Tomato: Lycopene - known for its antioxidant properties and links to bone health; Vitamin C - acts as an antioxidant and helps the body absorb iron, and helpful in helping the body produce collagen.
Spinach: Vitamin K; Manganese - healthy levels help to maintain proper and healthy bone formation, keeps the body producing collagen, and regulates blood sugar; Iron - helps with transporting oxygen throughout your body (spinach is one of the best non-meat sources of iron!).