Homemade Chocolate-Dipped Strawberries (Dairy Free, Gluten Free)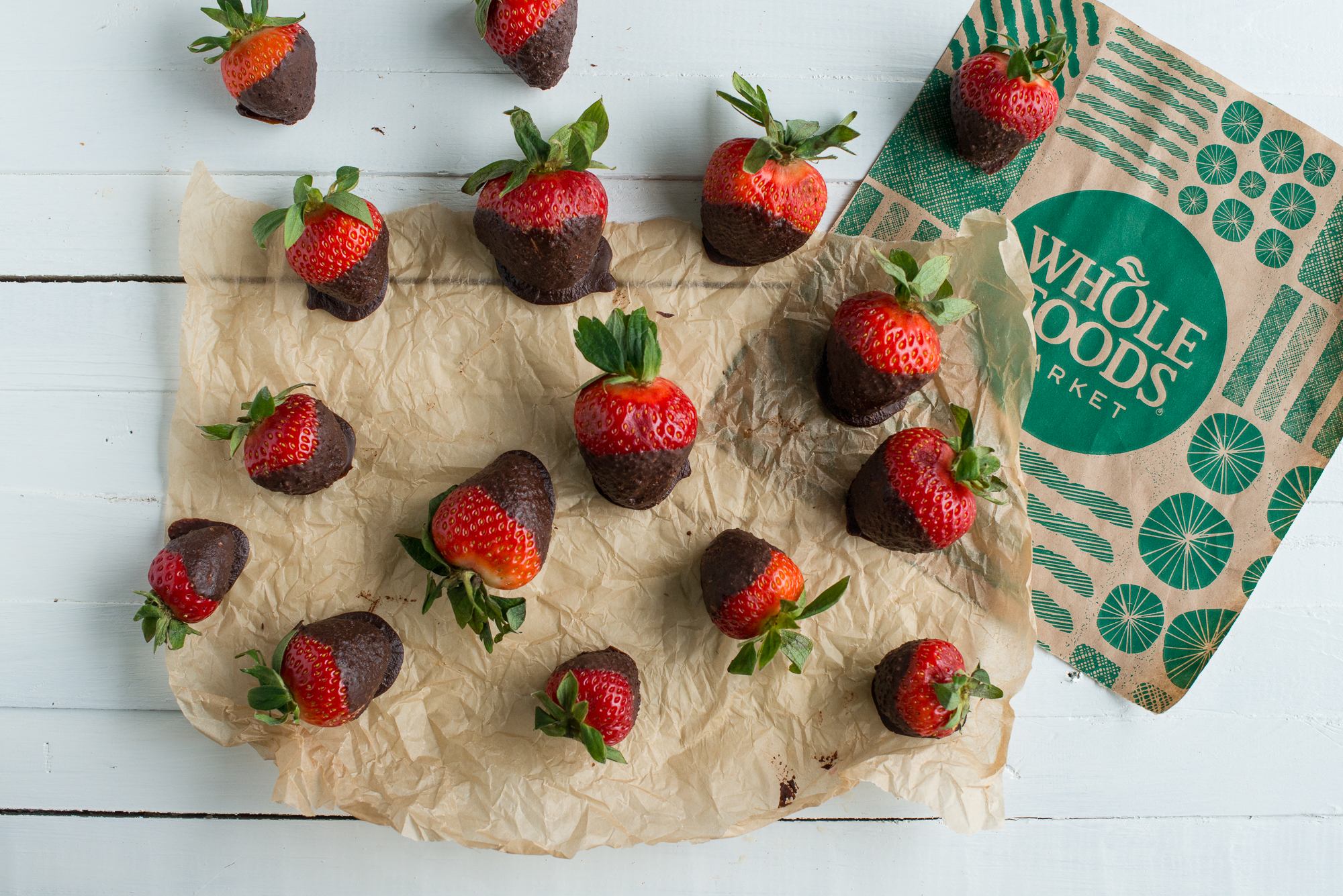 The classic, the quintessential chocolate-dipped strawberries. So simple, and pretty much necessary on Valentine's Day.
How to healthify these treats? Well, to be honest, the classic is not so bad to start with. But if you make your own chocolate, from scratch, your Valentine will be so much more impressed and happy to know that each strawberry is a clean, good-for-you treat.
This chocolate recipe is one I've used to cover truffles, make chocolate chunks, and to make chocolate bark/bars. So this is a super versatile recipe that comes together quickly, and is made with 4 simple ingredients (5 if you want to add sea salt and be extra fancy).
Start by trying the chocolate in this strawberry recipe, but feel free to get creative with it and see what other chocolate concoctions you can come up with! I'd love to hear how you use it in your own kitchen creations!
Homemade Chocolate-Dipped Strawberries (Dairy Free, Gluten Free)
Serves:
Makes about 20 strawberries (number will vary depending on how many in each package)
Ingredients
1 16oz package of organic strawberries
1/4 cup coconut oil
1/4 cup cacao powder (I get mine from the supplements section at Whole Foods Market)
2 tsp arrowroot starch (I love to use Bob's Red Mill arrowroot starch, which you can find at Whole Foods in the baking section)
1.5 TBSP coconut palm sugar
2 pinches Real Salt (or sea salt)
Instructions
Wash strawberries and make sure to thoroughly pat dry.
Line a baking sheet with parchment.
In a small saucepan on very low heat, melt coconut oil, cacao powder, arrow root powder, coconut palm sugar, and salt, mixing the whole time to make sure everything is incorporated and melts fully.
When the chocolate mixture is fully melted (about 5 minutes or so), remove from heat and immediately begin dipping strawberries, coating them about half-way to three-quarters of the way up each strawberry. Place each dipped strawberry on the parchment-lined sheet.
Once all strawberries are dipped, place the sheet of strawberries in the refrigerator until chocolate is set (about 10-15 minutes). Keep stored in the refrigerator until ready to eat.
---
Thanks to Whole Foods Market Montgomery County for generously providing ingredients for this recipe, and thanks for reading!